As with Web sites everywhere, this one is Under Construction. In particular, beware the workers driving heavy equipment; we wouldn't want any unpleasant accidents.
Something else to consider: the Internet is essentially a tool for the literate. If you are not literate, by all means avoid reading this page!
We have prepared a standard disclaimer to cover other hazards of network computing, deodorant usage and tap dancing. Please read it carefully.
As you have probably noticed by now (unless you are one of those strange people who uses their Web browser with the graphics turned off), this opening page has a penguin theme. The top picture to the right is from a mural at the Silver Spring, MD, Metro station. Titled "Penguin Rush Hour,"created by Sally Calmer, the long mural wraps around two sides of the station and depicts various species of penguins taking the Metro to work.
The senior penguin, Lawrence Charters, is currently a civilian, but once did yeoman duty at a Navy seaplane base, on an island in Puget Sound. In one famous photo, he is shown in his most formal penguin attire. What you can't see is his strong support of family values: he is holding his mother's hand with his left hand.
When not in uniform, he is an officer in Washington Apple Pi, and is a tireless collector of Infrequently Asked Questions. He also has a strong private business writing third person autobiographies, such as this.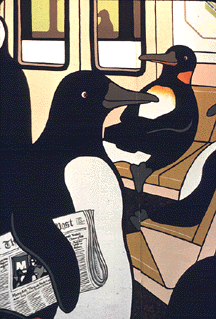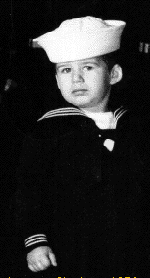 American Revolutionary War Timeline
The junior penguin, Lykara Charters, prepared some pages on the American Revolutionary War for her fourth grade peers (in 1995) at Phelps Luck Elementary School in Columbia, Maryland.
Recitals
Photos from Lykara's May 2000 recital at the Howard County Center for the Performing Arts (Ellicot City, Maryland).
Photos and movie clips of her May 2001 recital at the Black Box Theater, Howard County Center for the Performing Arts (Ellicot City, Maryland).
Retirement and Dwight Eisenhower
Photos from Kathleen's retirement party in August 2001 at Walter Reed Army Medical Center's Eisenhower Suite. With considerable luck, and despite several national crises, she retired November 1, 2001.
Trips and events:
Nursing Informatics 2003, Rio de Janeiro, Brazil, June 2003
Summer at the University of Pennsylvania, Philadelphia, PA, June-July-August 2002
Howard High School Junior & Senior Prom, Columbia, MD, April 26, 2002
Washington, DC, Cherry Blossom Festival, Washington, DC, April 2, 2002
Pensacola, Florida, Blue Angels, New Orleans, etc., April 7-14, 2001
Stellwagen Bank National Marine Sanctuary, Scituate, Mass., Feb. 12-13, 2001