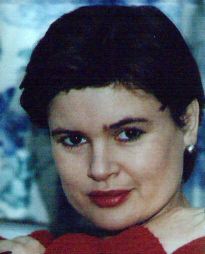 Sophie Aldred

Biography
Sophie Aldred was born on August 20, 1962 in Greenwich, and grew up in the southeastern London area of Blackheath. She went on to attend the Northern College of Music and eventually earned an honors degree in drama at Manchester University.
Her first professional experience was as a singer in working men's clubs, which she did in order to obtain an Equity card (required for any television or stage performer). She went on to work extensively in children's theatre, as well as appearing in a fringe show, Underground Man, at a pub theatre in London, which garnered her an agent (also virtually a requirement).
When she heard that she had landed the part of Ace in Doctor Who (her first television role), she was singing in the chorus for a Manchester stage production of Fiddler on the Roof, along with Topol and Doctor Who veteran John Scott Martin. John gave her a special "welcome aboard" postcard. Sophie says that for the rest of the evening there was one chorus member with a great big smile.
She ended up doing over three seasons of Doctor Who and appeared in other children's television as well over the same period. In Corners, she spent much of her time getting dressed up in an assortment of silly outfits in order to answer assorted scientific and other questions of the sort that children have. As Maureen in Melvin and Maureen's Music-o-Grams, a fun but educational programme about music, she got to show off her considerable musical and singing talents. She is a trained soprano with a 3-1/2 octave range and a gorgeous voice, as anyone who has attended one of the Visions variety shows can attest.
She has gone on to make numerous other television appearances: twelve different characters in Knock Knock, a reporter in Knowhow, a singer in The Box, a storyteller in Jackanory, a presenter in Jack in the Box, and a presenter/singer in Words and Pictures.
These were for the most part children's programmes, and, much as Sophie enjoyed doing them, she did not want to be considered solely in that light. In the early 90's she broke out of the mold in two roles. The first was a brief but striking appearance as "naughty girl" Suzie in the popular BBC soap opera EastEnders. The second, in the summer of 1993, was as the buxom Marjorie Pinchwife in the musical Lust, which was also her London West End debut.
Other stage appearances have been more conventional: Cinderella in a pantomime of Cinderella, Greta in the opera Hansel and Gretel, Frau Von Luber in The Silver Lake, Shen Te in Good Person of Setzuan, and Daisy in Daisy Pulls It Off.
These days she is active in an assortment of areas: acting as a presenter for childrens' programmes on Armed Forces Television, working for the satellite network The Children's Channel, and co-hosting the lonely hearts programme Love Call Live with David Jensen for Anglia Television.
We can't finish without mentioning that the book she co-wrote with Doctor Who special effects guru Mike Tucker, Ace! The Inside Story of the End of an Era, will be published very shortly. And, of course, she has attended many Doctor Who conventions in both American and Britain, being virtually a regular at Visions, and can be counted on to attend many more.

Back to the TARDIS.

Observations
Gosh, where to start? Despite running a fan club for Elisabeth Sladen, I have to say that Sophie Aldred is the one celebrity that I know the best. In fact, after encountering her at ten conventions now, I don't feel presumptuous calling her a friend. And I'm far from being the only one.
Sophie has to be one of the most approachable of all the celebrities: she's about the same age as many Doctor Who fans, and she falls in with them with ease. There are many fans who can boast of having gone to a movie with Sophie in Chicago, or having taken her to a party in New York, or just sat with her in the hotel bar and chatted. My favorite time with her was perhaps in the green room at I-Con in 1994, where we sat down with a couple of japanimation guests and had a relaxed, far-ranging conversation about everything from the Japanese language to the Brady Bunch movie. It's the sort of thing I find myself doing with Sophie.
Well, perhaps not entirely. My second-favorite memory goes back to the reception at Whoosiercon II in 1992, before Sophie and I really knew each other. A friend of mine with a video camera urged me to go over and chat up (not in the British sense) Sophie. I stepped over to Sophie and put my arm around her, saying (rather pompously) "Here I am with my good friend Sophie Aldred." Sophie spotted the camera and immediately got into the spirit of the thing. (This may be something worth remembering for those of you with video cameras.) We separated and came together again, but this time as if we were dear friends who hadn't seen each other in donkey's years: "Oh, Kevin!" "Oh, Sophie! It's so good to see you again." She decided that there were still some problems with this due to the disparity in our heights. (I'm 6'5" and she's about 5'2"). So she went off-camera, dragged a chair over, and stepped up on it so that we were roughly eye-to-eye. I have a truly cherished photo that shows the two of us in casual conversation with the camera person, except that Sophie is standing on the chair and for once has about four inches on me.
To summarize, she's a cheerful, nice, outgoing, fun-loving, people-oriented person--the ideal person to have around as a friend. I am pleased to be able to count myself as such, and so are her many friends in fandom. My only regret (and theirs, I'm sure), is that I don't see her nearly as often as I would like.

Back to the TARDIS.