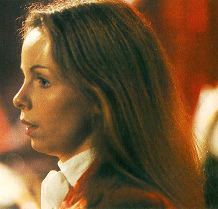 Lalla Ward

Biography
by Carson Maynard

The Honourable Lady Sarah Ward, better known to Doctor Who enthusiasts as Lalla Ward, was born to Viscount Bangor and his wife Marjorie who, despite their titles, had worked for the BBC themselves in earlier days. Lalla started out not only wanting to act, but also with a passion for painting and drawing, but in the end it was her love of performing that won out. Although her parents were somewhat surprised by her career choice, they enrolled her in the Central School of Speech and Drama.
I was so much younger than everybody else, and they let me in without any practical experience, so you can imagine I was pretty overawed - at first I was totally horrified. But once I got some confidence, I don't think I've ever enjoyed a period of my life more.
Within a month of leaving drama school, Lalla was cast as the vampire Helga in the 1971 movie Vampire Circus. Her other appearances from that time until her term in Doctor Who include parts in Rosebud, The Prince and the Pauper, The Duchess of Duke Street, Leap in the Dark, and Who Pays the Ferryman?. "Acting is supposed to have some terrible low points, but I had none," Lalla says. Aside from the to-be-expected month without work here and there, she has only happy memories of her work.
I love the theatre and I do like to work 'live' every so often, but my first loyalty is to television. I discovered quite early on that a camera never lets you down. The atmosphere of television is right for me.
Then Lalla won the part of Princess Astra in the Doctor Who adventure "The Armageddon Factor", the final installment in the Key to Time serial. The producers knew that Mary Tamm wanted to retire as Romana, and as several people working on "The Armageddon Factor" had previously worked with Lalla, they suggested her for the part.
My audition was, unwittingly, a six-week series! I was fortunate, because when I joined, I knew everybody, so the 'first-night jitters' were not so concentrated.
During her time as the second incarnation as Romana, Lalla enjoyed picking out her own costumes, things she thought would amuse the children that watched the program. These included a pink copy of the Doctor's outfit, a schoolgirls' uniform, a riding outfit, an elegant Victorian costume, a 1920s bathing suit, and a Chinese peasant robe.
I'm ashamed of the way I bossed my poor designers around! They were always letting me have my own way, so I had a tremendous time. I used to loathe having to wear school uniform, and I thought, if a heroine of mine on television had worn it, I'd have thought 'good, then I'll wear it.'
Lalla's favorite episode from her time on Doctor Who is "State of Decay", partly because "the sets made me feel so eerie, it wasn't difficult to act!" She considers the most challenging to have been "City of Death" because of the weather and time factors, but likes the finished product.
Lalla stayed with the program for about two years, finally leaving in "Warriors' Gate".
I'd made up my mind before the start of recording for the new series that I'd like to go halfway through. John Nathan-Turner had exactly the same feeling, so we had no conflict over the decision - it was entirely amicable and a relief, because I'd been dreading telling him, and vice-versa, I think. I loathed [Warriors' Gate] because it was my last. I was conscious the whole time of this being the last one. I was leaving part of me behind with it, and I was miserable. I was pleased that I got a nice open-ended departure. I was also delighted that I got K9 as company - it somehow eased the break. An excellent story - good for Romana, but terribly sad for me.
One of the most talked-about facets of the fourth Doctor- second Romana relationship is the fact that after their onscreen time together ended, their offscreen time together blossomed. In December of 1980, at the Chelsea Registry Office, Tom Baker and Lalla Ward pledged their love for one another in a marriage ceremony. Sadly, the marriage was fated to end after only eighteen months.
It's something I still feel sad about. I loved - and, in many ways, still love - Tom very much. The trouble is, our careers came to be just as important as each other, and we grew apart. I was angry at suggestions that it didn't work because I was too young, or that Tom was unreasonable to me. We just irritated each other occasionally - we weren't close enough, I suppose. It was a decision we discussed and felt was for the best.
Since leaving Doctor Who, Lalla has taken part in The Jeweller's Shop, The Rehearsal, and Schoolgirl Chums. Lately, she has more or less given up her acting career to devote time to her husband, author/scientist/biology teacher Richard Dawkins, her step-daughter Juliet, and her side career illustrating books, although she did take a half-day to reprise her role as Romana for "Dimensions in Time".

Back to the TARDIS.

Observations
I never really thought that much of Lalla as an actress, but based on interviews with and descriptions of her, she seems like one of the more interesting people to come out of Doctor Who. I hope they get her to Visions someday.

Back to the TARDIS.