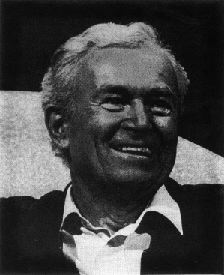 William Russell

Biography

William Russell Enoch was born in Sunderland, England and educated at Fettes College in Edinburgh and Trinity College in Oxford (where he obtained a Masters Degree in English Literature). He served as a Flight Lieutenant (Navigator/Bomb Aimer) in the RAF during World War II. He began his acting career in the theatre in 1949 in All My Sons.
Other theatrical credits include Man and Superman, Romeo and Juliet, Rebecca, Hamlet, Comedy of Errors, Templeton, Epitaph for George Dillon, MacBeth, Separate Tables, As You Like It, A Man for All Seasons, Jane Eyre, A Tale of Two Cities, Irma La Douce, The Merry Wives of Windsor, Mourning Becomes Electra, The Merchant of Venice, The Tempest, A Worthy Guest, Pygmallion, The Lady from the Sea, Too True to be Good, A Midsummer Night's Dream, and A Clockwork Orange.
His film credits include The Gift Horse, Malta Story, Appointment in London, Intimate Relations, They Who Dare, The Saint Returns, Always a Bride, One Good Turn, Above Us the Waves, The Gay Dog, The Man Who Never Was, The Big Chance, Breakaway, Hal V, Blind Spot, The Great Escape, Duellists, Superman, Terror, Deathwatch, and Mark Gertler.
William's TV career began in 1954 with Lonesomelike and continued with The Next Lord Chase, The Scarlet Pimpernel, St. Ives, Sleeping Beauty, The Adventures of Sir Lancelot, Nicholas Nickleby, The Duke in Darkness, David Copperfield, Never Die, I've Been Here Before, Nautilus, Pig in the Middle, Doctor Who, Breaking Point, Harriet's Back in Town, Hammer of God, The Doll, Newsworth, Disraeli, Fearless Frank, Testament of Youth, The Professionals, Mackenzie, Robin of Sherwood, and Coronation Street.
He is also a director and teacher, having just completed a teaching tour of U.S. colleges prior to attending Visions.
Visions '93 biography of William Russell, copyright 1995 by Her Majesty's Entertainment, Hoffman Estates, IL, USA. Used with permission.

Back to the TARDIS.

Observations
What with all the lovely ladies at Visions '93, I had little time to see William Russell, though the team of Ian and Barbara is among my favorites. However, I think that it says a lot of him that he took the time to do a quick drama class while at Visions, substituting at the last minute for Gareth Thomas, who was unable to attend. I know that those who participated found it a very positive experience, and William was good enough to praise his students at the closing ceremonies.

Back to the TARDIS.