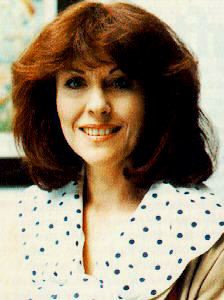 Elisabeth Sladen

Biography



Elisabeth Sladen was born on February 1, 1948, in the city of Liverpool, the only child of a family devoid of show-business connections. Despite this, she developed an interest in performing early on and began taking dance lessons at the age of five. This career path reached its zenith when she danced in one production with the Royal Ballet. However, rather than being a prima ballerina, she generally found herself done up in a mouse costume or suchlike. She turned to acting instead.

She finished grammar school, went to drama school for two years, then started work at the Liverpool Playhouse, the oldest repertory company in Britain, as an assistant stage manager. An ASM is the general dogsbody and gofer of the theatrical world with little in the way of performing. Liss first stage appearance was as a dead body, though she ended up being told off for getting the giggles. (A young actor named Brian Miller was playing the doctor and on one occasion whispered "Respiration nil, Aston Villa two" in her ear. She must have forgiven him, because they got married two years later.) Unfortunately for Lis, she was so good as an ASM that she didn't get much in the way of acting roles. She solved this dilemma by the simple expedient of deliberately screwing up on several occasions. This got her told off (again), but at least she started getting more on-stage roles.

She moved into weekly rep after this, traveling around to various locations in England. Eventually, though, she and Brian, now married, moved to Manchester along with the former assistant director from Liverpool. They spent three years there, and she appeared in numerous roles, most notably as Desdemona in Othello her first appearance as a leading lady. She also got the odd part on Leeds radio and Granada television, eventually appearing as a barmaid in six episodes of the long-running soap opera Coronation Street.

In 1972, her husband was appearing a play that moved down to London, and they had to move along with it. Arriving in the big city was a bit of a shock, but Lis eventually adapted. Her first television role there was as a girl terrorist in Doomwatch. She also appeared in an episode of Michael Crawfords series Some Mothers Do Ave Em and made two appearances in the police series Z-Cars. The latter led to her being cast in Doctor Who . Producer Barry Letts was growing increasingly desperate in his search for a replacement for Katy Manning when Z-Cars producer Ron Craddock gave Lis an enthusiastic recommendation.

Lis came in for the usual audition, not suspecting that it was for a new companion and amazed at Letts thoroughness. She was introduced to Jon Pertwee, who completely intimidated her at the time. Barry and Jon chatted with her for a while, and each time she turned to look at one of them, the other one would signal a thumbs-up. She was, of course, offered the role of independent journalist Sarah Jane Smith and accepted it enthusiastically. The rest, as they say, is history. She stayed for 3-1/3 seasons, weathering the transition from Jon Pertwee to Tom Baker, and received both popular and critical acclaim throughout her tenure. When she stepped down in 1976, it made front-page news, where previously only the regeneration of the Doctors had received such attention.

Far from retiring, immediately thereafter Lis returned to her old stomping grounds in Liverpool along with her husband to do a series of plays. Notable appearances following that include a two-year stint as a presenter for a childrens' program called Stepping Stones (while wearing a jumper bearing a suspicious resemblance to the notorious Andy Pandy outfit), a role as a stand-up comics spouse in the six-part Take My Wife , and, in 1980, her sole motion picture appearance to date, a small part in Silver Dream Racer as a bank secretary.

The beginning of the new decade also marked another notable occasion, that of her first appearance at a Doctor Who convention, specifically Who 1 in March, along with Ian Marter.

The following year brought two Doctor Who connections. First, Barry Letts cast her as the female lead in a BBC Classics production of Gulliver in Lilliput. Second, John Nathan-Turner, now the producer of Doctor Who , asked her to return to the program to ease the transition from Tom Baker to Peter Davison. She declined, but he came back with the counter-offer we now know as K9 and Company , and she accepted, appearing as the star in the only Doctor Who spinoff ever produced.

Two years later, she would return again in "The Five Doctors," as a sort of command performance. She was actively attending conventions in the early 80s, as well as doing ads and appearing (along with her husband, once again) in another Letts production, this one Alice in Wonderland, in which she played the Dormouse.

Throughout this period she showed up regularly at American conventions, including the big Chicago monstercons and, in 1983, six weeks going from city to city by bus along with Jon Pertwee.

In February 1985, though, Lis gave birth to a daughter, Sadie, and since then she has basically been in semi-retirement, putting her family first and her profession a distant second. She does occasional adverts and television appearances, leaving husband Brian to keep the family hand in Doctor Who , as his cries of EXTERMINATE! echo on the program whenever he is recruited to provide voices for the deadly Daleks. Sadie has shown signs of following in the family footsteps, appearing at the tender age of eight in a TV-movie about the wedding of Charles and Diana.

More recently, however, she has become more active. Most notably for Doctor Who fans, she reprised the role of Sarah Jane twice in 1993, first in the radio production "The Paradise of Death," and then in the EastEnders crossover television production for charity, "Dimensions in Time." In addition, the sequel to "Paradise of Death," "The Ghosts of N-Space," is set to air this coming spring. At Visions '93 (her first US convention since 1985), she expressed an interest in returning to work and since then has recorded guest appearances in Men of the World and Peak Practice. We can all hope that this is the beginning of much more.

Back to the TARDIS.

Observations
I am obviously grossly prejudiced here, but I will still say that Elisabeth Sladen is one of the most gracious human beings on the face of the earth. Though I had some time with her at Visions, my most striking memories of her are from a signing in London that she did in 1992.
The signing was for the Doctor Who Magazine Holiday Special that year (to which I contributed). Forbidden Planet, the bookstore sponsoring the event, was good enough to allow me to set up a table for my ESIN club materials, which was very kind of them.
The downside was that I had very little time with Lis. Due to the vagaries of her husband's work schedule, she was doing the signing right in the middle of their summer vacation (or "holiday," as they put it). One of the DWM editors was going to drive her in that morning and then back that evening to their vacation cottage, leaving little time for me to get together with her.
Though that was frustrating, Lis did her best for me while she was there. She carefully posed for any photo I took, then each time asked me if I thought it would turn out okay. Just before opening, she asked if I were ready for the hordes, when no one else bothered to do so. She even offered me a share of a plate of sandwiches someone had brought her after the signing was over. But there was a tiny little gesture at the end that struck me most of all: I had walked over to give her a copy of one of my fanzines, but couldn't get a word in edgewise as someone else was monopolizing her attention. She leaned a bit over toward me and slipped her hand inside my arm, as if to say, "Yes, I know you're there, and I'm very sorry I can't do more about it." It's a moment I cherish.

Back to the TARDIS.

Career summary
1959: Worked with Royal Ballet

1966: Dead body in The Physicists, Liverpool Playhouse. First stage appearance.

1966-68?: ASM + various stage roles at Liverpool Playhouse; weekly rep: St. Helens, St. Annes, Malvern, Farnham Rep; Manchester Rep.

16 Feb 1968: Hotel Maid in The Playhouse: "If Only the Trains Came" (Granada, d. Barry Davis)

1968?-70?: Mary Warren in The Crucible , Desdemona in Othello , Jo in A Taste of Honey , Katherine in Henry V , Nora Clitheroe in The Plough and the Stars , Annie Parker in When We Are Married , Jean Rix in The Entertainer , Deirdre in Hows the World Treating You? (Roger Milner), Margaret in A Man For All Seasons , Lika in The Promise , Fran in The Poker Session (Hugh Leonard), Iras in Anthony and Cleopatra , Leanthe in Love and a Bottle (Farquhar), Mary Boyle in Juno and the Paycock , Oh What a Lovely War , Jean Rix in The Entertainer , Kattrin, the mute daughter, in Mother Courage , Lavinia in Androcles and the Lion , Feemy Evans in The Showing Up Of Blanco Posnet ; Library Theatre, Manchester. Various walk-ons on Granada televison. Various radio plays.

1969: The Daughter in A Little Stiffly-Built Chap (Leonard Barras), Flaminia in Wife-Swapping Italian Style (Leon Katz), Fiona in How the Other Half Loves (Ayckbourne), The Story So Far ; Theatre in the Round, Scarborough; dir. Alan Ayckbourne. (two seasons)

21 Jan 1970: Anita Reynolds in Coronation Street (Granada, 6 episodes, exec. prod. H. V. Kershaw)

Special Branch (Thames)

16 Jan 1971: Valerie in Z-Cars : "Who Were You With?" (BBC, d. Derek Martinus)
19 Jun 1972: Sarah in Doomwatch: "Say Knife, Fat Man" (BBC, d. Eric Hills)

23 Oct 1972: Rose in Z-Cars : "Day Trip" (BBC, d. Julia Smith)

29 Nov 1972: Policewoman in Public Eye : "Many a Slip" (Thames, d. David Wicks)

*15 Mar 1973: Judy in Some Mothers Do 'Ave 'Em : season 1, episode 5, "The Hospital Visit") (BBC, prod. Michael Mills)

Some television commercials, UK

1973: The Philanthropist ; Mayfair Theatre

Ý 1973-1976: Sarah Jane Smith in Doctor Who (BBC, 80 episodes)
Wogans World (BBC Radio).

**June 1975: TISWAS : interview on childrens program with Tom, Lis, and Ian (ITV)

Ý 1976: Sarah Jane Smith in Doctor Who and the Pescatons (Argo Records)

13 May 1976: Nationwide : interview about leaving DW (BBC)

3 Jul 1976: Dorothy in Thirty Minute Theatre: "Post Mortem" (BBC Radio, Manchester, d. Robert Cooper, with Brian Miller)

*2 Oct 1976: The Multi-Coloured Swap Shop : interview on childrens chat show, with Tom Baker (BBC)

**4 Oct 1976: Exploration Earth: The Time Machine. Doctor Who radio production on evolution (BBC Radio 4 VHF) 2 pm, 20 minutes

15 Oct 1976: Brenda in Afternoon Theatre : "A Bitter Almond" (BBC Radio, Manchester, d. Tony Cliff, with Brian Miller)

1976-77: (with husband) Mooney and His Caravans (two-hander by Peter Terson), Guillenella in Saturday, Sunday, Monday, Alais in The Lion in Winter ; Liverpool Playhouse

? ??? 1977: Laura and the Angel (BBC Radio)

2 Mar 1977: Miss Brillman in The Hilton Boy (BBC Radio 4)

9 May 1977: Presenter of Merry-Go-Round : "The Fuel Fishers" (BBC Schools). Childrens program about North Sea oil drilling

? ??? 1977: Presenter of Merry-Go-Round : "The Jubilee" (BBC Schools).

*1977-78: Presenter of Stepping Stones . (Yorkshire, 98 episodes) Childrens' early morning educational program. (excerpt on tape).

29 Mar 1978: Beverley in Send in the Girls : "Beware of the Gentle People." (Granada, d. Oliver Horsburgh.) Leading role.

23 Sep 1978: Countess Bertrand in Saturday Drama: "Betzi" (Anglia, d. Claude Whatham)

17 Jan 1979-Feb 1979: Josie in Take My Wife . (Granada, 6 episodes) Co-star in short-run comedy series

1979?: Susannah in Bedroom Farce (Alan Ayckbourne); on tour

14 Jan 1980: Presenter of My World . (ITV schools).

*1980: Bank Secretary in Silver Dream Racer (movie, d. David Wickes)

March 1980: guest at Who 1, one of the first Doctor Who conventions.

1980?: Mary Bennett in In Loving Memory (Yorkshire)

*16 Dec 1980: Jo in Play for Today "Name for the Day" (BBC, d. Bill Bain) Leading role. (excerpts on tape)

Ý 28 December 1981: Sarah Jane in K9 and Company .

Ý 3-24 January 1982: Lady Flimnap in Gulliver in Lilliput (BBC, 4 episodes, w. & d. Barry Letts) Her favorite television role

1982: Mrs. June in Overruled (Shaw), Anne in Random Moments in a May Garden ; Orange Tree, Richmond.

1982/83: Olivia in Twelfth Night, June in Comic Cuts , Mrs. Ross in Robin Hood; Bristol Old Vic.

1983: In-house video for Micol Biosthetics cosmetics.

**1983: Whovian Festival Tour, DWFCA-sponsored four-week US convention tour.

Ý 25 Nov 1983: Sarah Jane in Doctor Who : "The Five Doctors," (BBC, d. Peter Moffatt)

*November 1983: The Ultimate Celebration, Chicago. 20th Anniversary Who con.

*July 1984: Gulfcon 84, Mobile, AL.

November 1984: Tardis 21 (Monstercon II), Chicago.

*1985: The Dormouse in Alice in Wonderland (BBC, d. Barry Letts)

1985: Dubbing foreign in-house videos.

*13 Sep 1985: Mrs. Barrett in Dempsey and Makepeace : Love You to Death (Golden Eagle Films/LWT, d. Tony Wharmby)

22 Nov 1985: Personal appearance, Children in Need , BBC.

November 1985: Tardis 22, Chicago.

1986: TV commercial for Crosse and Blackwell

1986: US TV commercial for Coca-Cola (w. Max Headroom), dir. Ridley Scott.

*19 Jan 1989: Mrs. Preston in The Bill: "Life and Death" (Thames).

18 Nov 1989: Megaquiz 89 convention, Birmingham, England (with Brian Miller)

27 Aug-24 Sep 1993: Sarah Jane Smith in Doctor Who : "The Paradise of Death" (BBC Radio 5, prod. Phil Clarke)

28 Nov 1993: Visions 93 (Doctor Who 30th Anniversary), Chicago, IL.

31 Mar 1994: Lady Mary in Sir Colins New Clothes (Radio, d. Matthew Walters, with Brian Miller)

?? Mar 1994: Men of the World (BBC, d. Terry Kinane)

1995: Peak Practice (Central Television)


Numerous television commercials throughout, including UK ones for the Daily Mail (with Ian Marter), Cross and Blackwell, *Vosene (shampoo), *Austin Rover, and *Special K, US ones for Special K and Colemans Sausage Casserole Mix, and assorted ones for Holland, Spain, Ireland, Switzerland, and Italy.


*Available on ESIN video tape set
**Available on ESIN audio tape set
Seen in the US, but I don't have it on tape.
Ý Commercially or commonly available.


Back to the TARDIS.