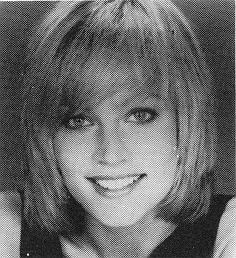 Photo nicked from the good folks at Visions
Daphne Ashbrook

Biography



Daphne Ashbrook comes from a theatrical family in San Diego. Her father is head of Palomar College's drama department, and her mother is a teacher who still acts in local theater. Her sister Taylor and brother Dana are also actors. Dana played Bobby Briggs in the series Twin Peaks.

Daphne has appeared in both television and movies. She is best known to science fiction fans as Ensign Melora Pazlar from the Star Trek: Deep Space Nine second season episode "Melora." Melora was a beautiful and strong-minded but wheelchair-bound woman. Doctor Bashir falls in love with her and tries to help her, but she decides that she is better off as she is.

Television series:
Knight Rider: "A Knight in Shining Armor" (1984)
Riptide: "Where the Girls Are" (1984)
Street Hawk: "Dog Eat Dog" (1985)
A-Team: "Road Games" (Feb 5, 1985)
Simon and Simon (1985)
The Fall Guy: "Reel Trouble" (1985)
Our Family Honor (1985-Jan. 1986) - Officer Liz McKay (regular)
Fortune Dane (Feb.-Mar. 1986) - Speed Davenport (regular)
Falcon Crest: "False Faces" and "Dirty Tricks" (1988)
Sisters (1989, unaired pilot)
Hooperman: "In the Still of My Pants", "The Dating Game", "Dog Day Afternoon, Morning, and Night," "Take My Building, Please" (1989)
Midnight Heat (1993)
Star Trek: Deep Space Nine: "Melora" - Ensign Melora Pazlar (Oct 30, 1993)
Sweet Justice: "Fire" (1995)
JAG (1995?)
TV movies:
Brothers-in-Law (1985) - Barbara Jean
That Secret Sunday (1986) - Collie Sherwood
Perry Mason: The Case of the Murdered Madam (1987) - Miranda
Carly's Web (1987) - Carly Foxe
Longarm aka Showdown in Silver City (1988) - Pearl
14 Going on 30 (1988, 2-part) - Peggy Noble
Rock Hudson (1990) - Phyllis Gates
Daughters of Privilege (1991) - Mary Hope
Intruders (1992, 2-part) - Lesley Hahn
Poisoned by Love: The Kern County Murders (1993) - Dyna
Automatic (1994)
Jake Lassiter: Justice on the Bayou (1995) - Susan Corrigan
Theatrical movies:
Gimme an "F" (1984) - Phoebe
Quiet Cool (1986)
Sunset Heat (1991) - Julie

Back to the TARDIS.

Observations
Based on a second viewing of "Melora," it seems likely that Daphne will be playing a strong, not-to-be-trifled with character, a far cry from the traditional Doctor Who runner and screamer. We shall see.

Back to the TARDIS.