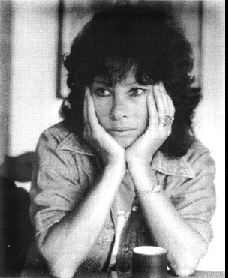 Carole Ann Ford

Biography
Carole Ann Ford has had a long and varied acting career. Her theatrical work includes many comedies, dramas and musicals such as The Jungle Book, Stranger in the House, Bakerloo to Paradise, The Owl and the Pussycat, The Rumpus, Pride and Prejudice, Inadmissable Evidence, Enrico, Expresso Bongo, Sleeping Beauty, You Never Can Tell, Ned Kelly, Mother, MacBett, The Boyfriend, Have You Seen Manchester, and Private Lives.
Her films include Sarah (about the life of Sarah Bernard) Hiding Place, The Great St. Trinians Train Robbery, Mix Me a Person and the part of the blind French girl Bettina in the science fiction classic The Day of the Triffids.
In addition to Doctor Who, her television appearances include Whatever Happened to the Likely Lads, Public Eye, Man on a Bicycle, Z Cars, Emergency Ward 10, Attorney General, Moonstrike, Compact, Probation Officer, and Dial M for Murder.
Carole reprised her role of Susan in "The Five Doctors." She has also appeared on Juke Box Jury, numerous quiz shows, and done a multitude of voiceovers, dubbing, post synching and audio tapes.
Carole is married to Harry, a businessman, and they have two lovely daughters, Miranda and Tara. Their household also boasts two dogs, one horse, one rabbit and a budgie. Her hobbies include riding, painting and dancing (around the house to Jazz FM). She is currently teaching voice and presentation skills and dialogue coaching to politicians, businessmen, after dinner speakers and actors.
Visions '93 biography of Carole Ann Ford, copyright 1995 by Her Majesty's Entertainment, Hoffman Estates, IL, USA. Used with permission.

Back to the TARDIS.

Observations
My most striking observation of Carole is that she is striking, not just for a woman her age, but period. It was all I could do not to stare when I spotted her in the restaurant at Visions '93. I did manage to chat with her a bit and found her remarkably easygoing, enjoying the attention she received at the convention but not taking it too seriously. She seemed like a lot of fun, and I wish I had had more time to spend with her.

Back to the TARDIS.